21 Jun 2019
RENEWABLES 2019: Global Status Report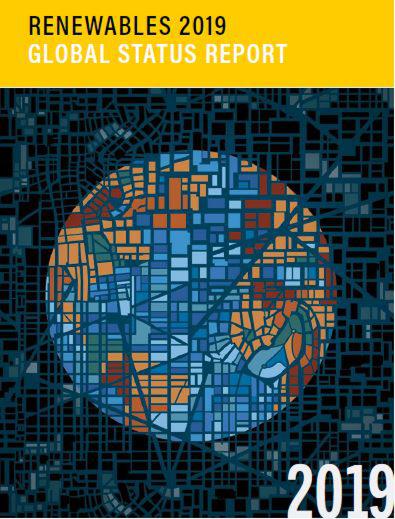 The evidence from 2018 clearly indicates that renewable power is here to stay.
Solar photovoltaics (PV) and wind are now mainstream options in the power sector, with an increasing number of countries generating more than 20% of their electricity with solar PV and wind. This is good news. But current trends show that bolder policy decisions are needed across all sectors of energy end-use to make our energy systems sustainable.
The lack of ambitious and sustained policies to drive decarbonisation in the heating, cooling and transport sectors means that countries are not maximising the benefits of the transition – including cleaner air and energy security – for their populations. On a global level, these sectors remain heavily reliant on fossil fuels, which are highly subsidised in many countries. In addition, the policy effort focused on these sectors has been insufficient compared to the power sector. Data in this year's report clearly illustrate that ambitious policy and regulatory frameworks are needed to create favourable and competitive conditions, allowing renewable energy to grow and displace more expensive and carbon-emitting fuels.
Cities increasingly are strong drivers in renewable energy deployment, adopting some of the most ambitious targets for renewables globally. This year's Feature chapter outlines commitments and actions at the city level that are, in numerous cases, exceeding national and state/provincial initiatives. Given the role of cities in the energy transition, REN21 has initiated the Renewables in Cities Global Status Report, using the same process and rigorous standards of the GSR but looking at the city level.
The underlying data and information in GSR 2019 show that an array of opportunities exist to extend the benefits of the energy transition throughout the economy.
Download the REN21 Renewables 2019 Global Status Report
Source: Foreword by Arthouros Zervos, Chair, REN21 - http://www.ren21.net/gsr-2019/pages/foreword/foreword/